The private jet market in India has been growing during the period of COVID-19. It became evident especially in 2021 when the majority of the airports experienced a disruption of services. The growth of private jet use has been elevated ever since, making travelling on a private jet an alternative solution. The growth of the industry's most popular private jets has also been observed in India.
According to the Business Standard, there are currently 142 billionaires in India. India is now in third place with the most billionaires in the world, just under the United States and China. The business aviation market is currently experiencing a lot of first-time flyers and India does not fall behind. Where some of India's richest tycoons and celebrities own private jets, others choose to use on-demand private jet charter services.
Advice For The First Time Flyers
When it comes to choosing a private jet via an on-demand charter service, please take a few points into consideration. First of all, you need to consider how many passengers will be on the flight. Second of all, the amount of luggage can also impact the suitability of the aircraft for a charter flight. Usually, the more people and luggage you have on board, the shorter the range of the flight will be.
If you're looking for a short-haul flight, then it may not be a problem. However, if you're looking for a long-haul flight with more than 9 passengers and a lot of luggage, then choosing an aircraft with a longer range such as Heavy Jets or Ultra Long Range Jets might be a solution for a non-stop flight. Alternatively, if the aircraft's range is too small, a fuel stop can be performed. A fuel stop involves refuelling the aircraft at another airport for about 30 minutes, before reaching your final destination.
Generally speaking, the bigger the aircraft, the higher the charter price will be, however that is not always the case. Sometimes, if the aircraft is positioned near the airport of your departure, the charter cost can be lowered. The reason for that is due to lower aircraft repositioning costs.
The private jet market offers aircraft for different individuals with different preferences and needs. Indeed, the bigger the aircraft, the bigger the cabin size. Taller passengers might find it uncomfortable to fly on a smaller aircraft, due to the smaller cabin size.
Enhance Your Private Jet Flight Experience
Our advice is to always work with a good broker who advises and helps you choose a suitable aircraft. Having a good relationship with a broker can help you to avoid uncomfortable flight situations. Nobody wants to fly in discomfort, that's why it's always better to avoid aircraft which don't suit your needs. Prior to your flight, it's essential to check whether the aircraft has a stand-up cabin, hot catering or a flight attendant.
A good broker will always make sure that your flight experience is paramount and that the aircraft is suitable for your type of travel.
Since we have already established the points that are worth considering before choosing a private jet, why not dive into the most popular private jets in India?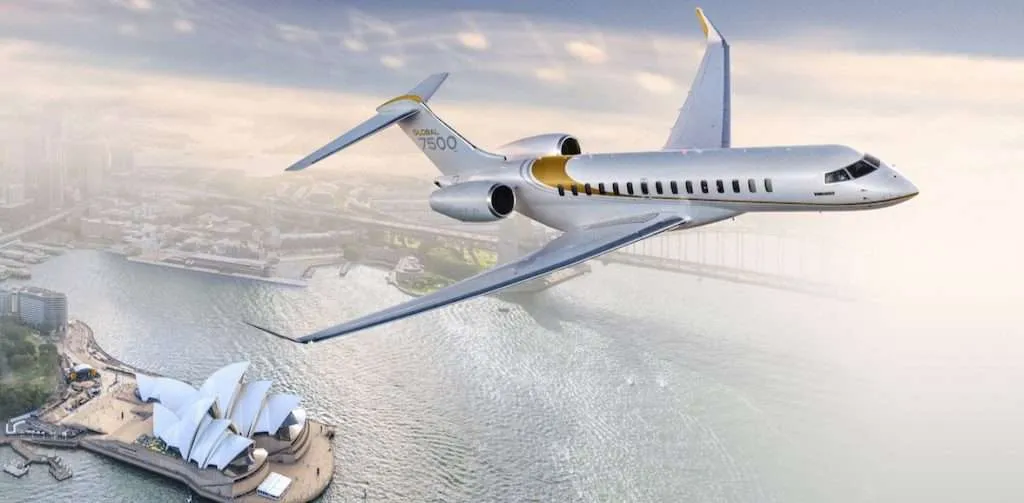 Bombardier Global 7500
On the top of our list is the Ultra Long Range Jet Bombardier Global 7500. This aircraft boasts a luxurious interior, consists of true living spaces and has a full-sized kitchen. Bombardier Global 7500 aircraft is the world's largest and longest-range business jet as of 2022. Every aspect of this efficient, comfortable and elegant aircraft has been designed as an extension of your home office. It makes sure that you can work, relax and travel effortlessly.
Due to its impressive range of 7,700 nautical miles (14,260 km), it can fly you to most destinations without a fuel stop. This aircraft can accommodate up to 19 passengers, performing flights from New York to Delhi within 14 hours and 40 minutes without a fuel stop.
Gulfstream G-650
Gulfstream G-650 is amongst the most popular private jets in India. Capable of carrying up to 15 passengers, this Ultra Long Range business jet will definitely give a comfortable flying experience. This aircraft has a range of 7,000 nautical miles (12,964 km), so flights to popular destinations from India such as London, Paris, Dubai or even Cape Town can be performed with ease.
Gulfstream G-650 can fly at the speed of Mach 0.925 (1,142 km/h) just like the Global 7500, allowing you to fly close to the speed of sound. Quiet, spacious and highly adaptable, the cabin of the Gulfstream G650 is packed with the latest cutting-edge technology, all of which adds up to a supremely comfortable and sophisticated way to travel long haul.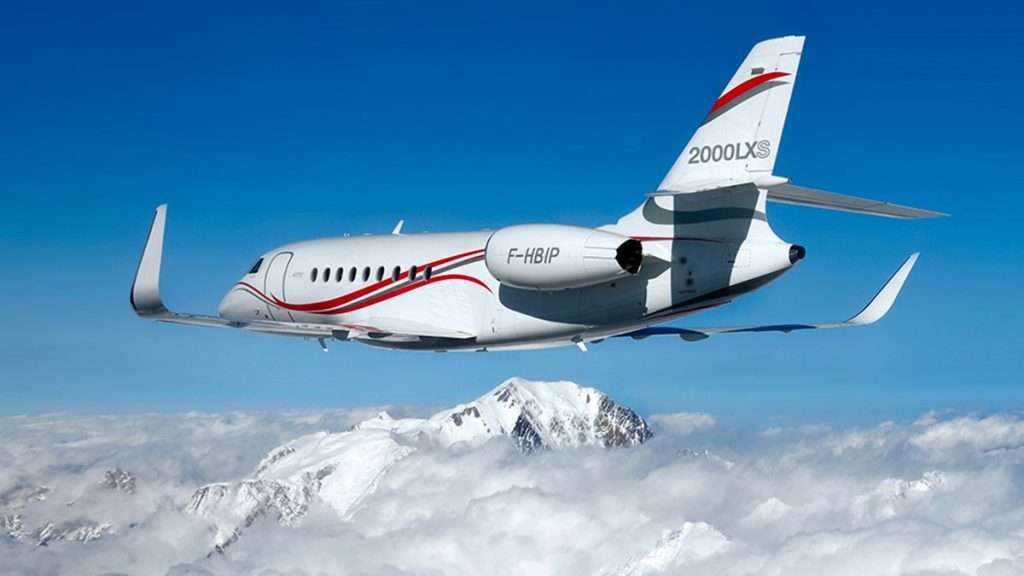 Falcon 2000LXS
Falcon 2000LXS is in the Heavy Jet category and is a great choice for on-demand charter in India. Boasting a large-body cabin, style, luxury and performance, the aircraft ensures superior comfort during flights of various lengths. The range of the aircraft is 4,000 nautical miles (7,408 km) and it can perform non-stop flights to most parts of Eastern Europe and Western Asia.
Falcon 2000LXS can fly at the maximum speed of 0.862 Mach (1,064 km/h) and can accommodate up to 12 passengers. The aircraft has the ability to access short and challenging runways, thus giving better access to the airports that can't be reached by some of the private jets.
Bombardier Challenger 650
Another great choice for private jet charter in India is the Bombardier Challenger 650 heavy jet. Boasting an impressive performance, wide cabin, reliability and range, the aircraft is favoured by many travellers. Due to the ergonomics inspired by its smaller brother Challenger 350, the aircraft will convey a pleasant, relaxing and enjoyable flight experience.
Bombardier Challenger 650 can fly up to 12 passengers, within the range of 4,000 nautical miles (7,408 km) at a maximum speed of 0.85 Mach (1,049 km/h). The aircraft was designed with safety and reliability in mind, also conveying connectivity, control, superb comfort and unique design attributes.
Embraer Praetor 600
If you're looking for a good option in the smaller jet category, then look no further than a super midsize jet Embraer Praetor 600. This aircraft is one of the fastest and most advanced aircraft in the super-midsize jet category. Boasting productivity, efficiency and relaxation, Praetor 600 is equipped with the latest technology, keeping you connected wherever you go.
The aircraft can fly 8-12 passengers within an impressive range of 4,018 nautical miles (7,440 km) at a maximum speed of 0.83 Mach (1,024 km/h). Travellers with a lot of luggage will absolutely admire Praetor 600. It has the largest luggage compartment in its class – up to 155 cubic feet.
Conclusions
These are our top picks for the most popular private jets in India. Since the demand for private jets in India is rising, we are seeing more newcomers in the market. As an on-demand charter broker company, we always prioritise safety, security, confidentiality and client satisfaction.
If you are not sure which aircraft to charter, our team of aviation consultants are always able to advise and help you to select an aircraft that you would feel most comfortable flying with. Contact us for your free quote, and let us look after your charter flights in style as you fly and stay connected across the world.