So you're looking to charter a private jet? That's great! First of all, we would highly recommend reviewing your options first before you make a final decision for your charter flight. You need to make sure that the aircraft has enough space for your luggage, plus all of your friends and family members. Luckily, we've done the research for you in regard to the private jets with the biggest cabin size. Here are the top picks by Challenge Jet Charter:
Boeing Business Jet (BBJ)
The Boeing Business Jet (BBJ) is a twin-engine jet that has a cabin size of 85.3 feet long, 11.5 feet wide and 7.1 feet high. It can carry between 19 and 50 passengers, depending on the configuration you choose as well as your destination airport's runway length requirements. The BBJ has a range of 6,150 nautical miles at Mach 0.85 speed with one engine out and 6,700 nautical miles at Mach 0.90 speed with both engines running (the latter would be faster).
The BBJ's cabin volume is 5,390 cubic feet; it has more space than other private jets in its class and it comes with all the amenities you might need when travelling long distances in style!
Embraer Lineage 1000E
The Embraer Lineage 1000E is a luxury business jet with a cabin size of 84.3 feet long, 8.8 feet wide and 6.6 feet high. It has a range of 4,500 nautical miles at 0.81 Mach and can take up to 19 passengers and 3-4 crew members on board for their trips around the world. The cabin volume of this aircraft is 4,085 cubic feet which allows you to enjoy your space even when travelling in pairs or small groups!
The Embraer Lineage 1000E also comes with many features that place it among the other popular private jets out there including its unique tail design, advanced avionics systems and luxurious seating arrangements that provide all comforts needed during your flight experience.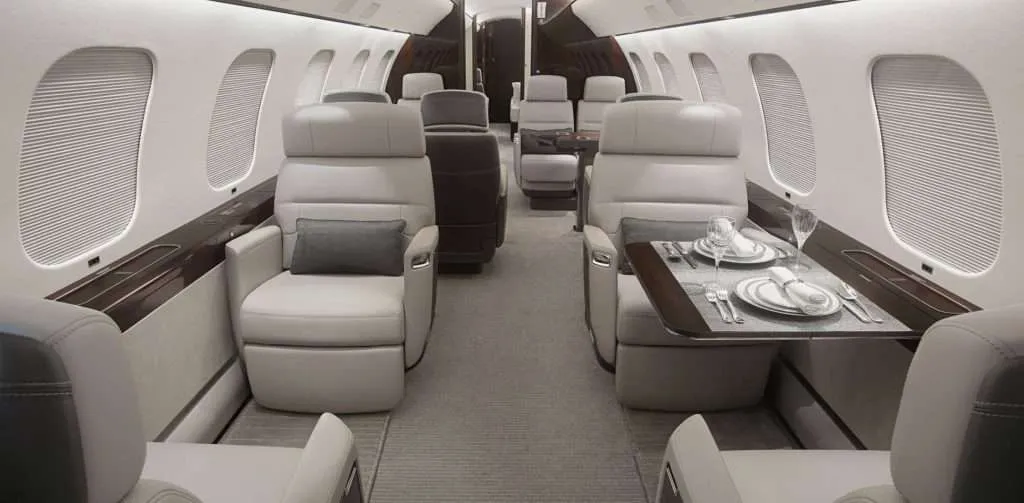 Bombardier Global 7500
The Bombardier Global 7500 is big.
This business jet has a cabin size of 54.5 feet long, 8 feet wide and 6.2 feet high. The cabin capacity is up to 19 passengers, depending on configuration and seating arrangement.
The aircraft has a range of 7,700 nautical miles at Mach 0.925 (around 710 mph) with an average cruise speed of Mach 0.90 or about 690 mph.
These are the specifications of the Bombardier Global 7500
Range: 7,700 nautical miles
Speed: 0.925 Mach
Takeoff distance: 5,800 feet
Cabin volume: 2,786 cubic feet
Gulfstream G650ER
The Gulfstream G650ER is a private jet with the biggest cabin size. With this aircraft, you can travel in style at a speed of Mach 0.925 and altitudes up to 51,000ft. The Gulfstream also boasts a maximum range of 7,437 nautical miles and is 53.6 feet long and 8.5 feet wide with a cabin volume of 2,421 cubic feet. Now that's roomy!
Global Express XRS
The Global Express XRS is a private jet that seats up to 16 passengers. The cabin size of the Global Express XRS is 48.35 feet long, 8.17 feet wide and 6.25 feet high and has a maximum range of 6,055 nautical miles at Mach 0.80 with two Rolls-Royce BR710-A2-20 engines and can reach a maximum speed of Mach 0.80.
The Global Express XRS was built by Bombardier Aerospace and entered the service in 2004. The production of these aircraft was discontinued in 2012 however, there are 159 Global Express XRS in operation today.
Bombardier Challenger 850
The cabin on the Challenger 850 is 48.42 feet long and 6.1 feet high. This makes for an average-sized private jet cabin that can comfortably fit up to 14 passengers (and two pilots), with plenty of legroom to spare. The width is 8.2 feet, giving passengers enough room to move around during the flight without feeling uncomfortable.
The Challenger 850 has a volume of 1,964 cubic feet—a larger figure than many other jets in the heavy jet category. It has more cabin volume than its rival Embraer Legacy 650 which consists of a total cabin volume of 1,656 cubic feet.
Our Suggestions For A Large Cabin Private Jet
If you can't decide which aircraft to choose, we have selected three options you might want to consider.
The Boeing Business Jet (BBJ) is a large, long-range business jet. It was designed to be used as a small airliner and can carry 19-50 passengers. The BBJ is equipped with multiple fold-out tables, making it easy to work on your laptop or tablet while flying comfortably.
The Gulfstream G650ER features four distinct living areas so that passengers can choose where they'd like to sit based on their mood or needs at any given moment during flight time (for example: if someone wants privacy then they could select one of four different zones; this includes a distinct bedroom area).
The Global Express XRS is perfect for those who want to travel in style without breaking their budget. This private jet seats up to 16 people comfortably and comes with all of the amenities you'd expect from such an expensive aircraft, including Wi-Fi connectivity throughout the cabin, flat-screen TVs and fully stocked bars.
Conclusions
Well, there you have it. When you're looking for private jets with the biggest cabin size, it's important to consider the number of passengers that will be flying on your flight. If you plan on having only two people onboard, then it might not matter if there are seats in the back. However, if there are nine or more passengers, then it would be worth chartering a large aircraft such as a Heavy Jet, Ultra Long Range Jet or VIP Airliner so passengers can enjoy a pleasant flight experience in comfort.
If you are not sure which aircraft to charter, our team of aviation experts are always able to advise and help you to select an aircraft that would match your needs and personal preferences. Contact us for your quote and let us look after your charter flights as you fly and stay connected across the world.