Private jets are the perfect solution to the problem of long-distance travel. Indeed, private aircraft are often faster than commercial airlines. Private jets can land on almost any landing strip and they offer a level of privacy that's unmatched by most other forms of air travel. But if you're planning to use a private jet for business or pleasure, it's important to know where your private jet can land. Here are some tips from Challenge Jet Charter:
Airports
The next question you might ask is, "Can I land with a private jet at an airport?". This is not only possible but also common. There are public and private airports in every state and country. The difference between the two lies in who owns them and how they are used by planes. Public airports serve commercial airlines and charge fees for landing or parking at these locations. Private airports are owned by individuals or companies that use them to transport passengers using private jets. However, passengers flying on private jets can also land in commercial airports.
Private jets can land at any airport provided that they have the right permits from local authorities. They will also need permission from individual operators.
Differences Between Public And Private Airports
There are two main types of airports: public and private. Public airports are managed by the government or a municipality and have longer runways for larger planes. They also have many services, such as restaurants, shops and car rental agencies on site. Private airports are smaller and more closely controlled, with shorter runways that can accommodate smaller aircraft (like private jets).
Big Airports or Small Airports?
When deciding where you can land, there are two factors that will heavily influence your decision. These are the number of runways and the airport's proximity to the city centre. Bigger airports have more runways—often as many as five or six. They also have more space and equipment for private jets. That means that you can land at a smaller airport but still enjoy the benefits of being close to town. This completely removes the reason to worry about flight delays and other disturbances.
You should also remember that smaller airports are often closer to downtown areas, which is convenient if you're planning on heading out right after landing. For example, London Heathrow Airport (LHR) has two runways and serves mainly commercial flights. However, London City Airport (LCY) has just one runway but serves primarily private jets. It takes less than 15 minutes by car from LCY to Canary Wharf during rush hour traffic.
Airport Runways
Runways, as you may know, are the landing area for aircraft. And while many airports have runways with lengths of over 10,000 feet, that's not always possible when it comes to private jets. Runway length is measured in feet rather than meters (1 foot = 0.304 meters). It varies by type of aircraft and weather conditions but typically ranges from 2,500 to 4,000 feet long—and sometimes even less!
Runway length is also dependent on weight—larger private jets need longer runways for takeoff and landing purposes.
Some private jets, such as the Pilatus PC-24, are able to land on dirt and grass runways carrying cargo and passengers in addition to undertaking aeromedical missions.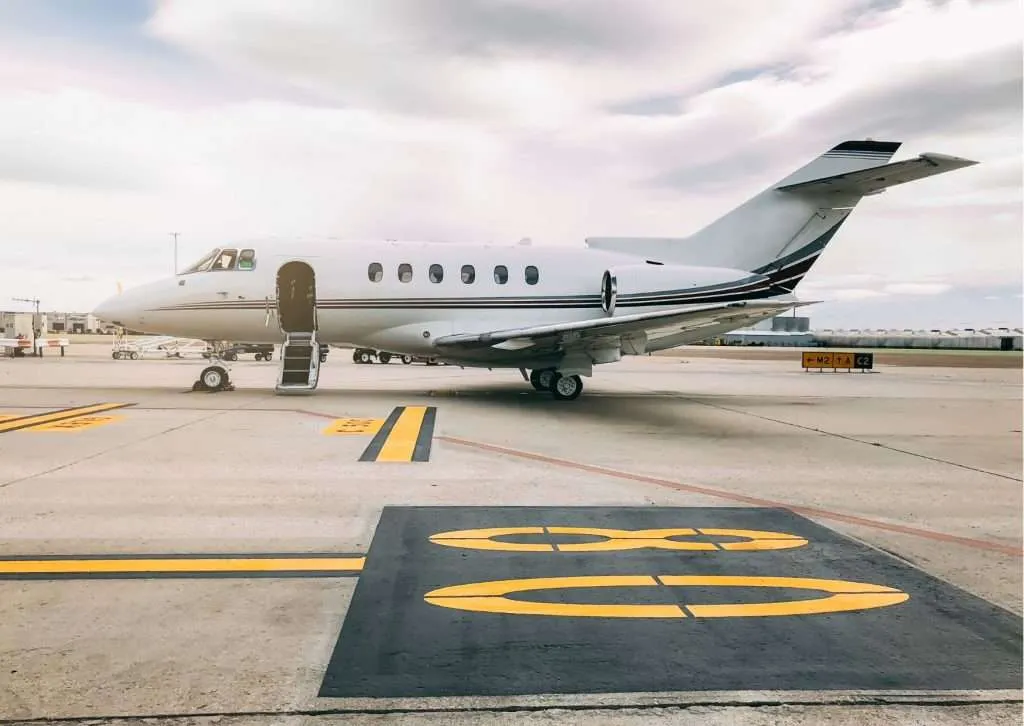 Private Jets Can Land At Any Airport – Depending On The Aircraft Range
If a private jet can land at an airport, it means that the aircraft has the range to do so. This is important because the length of the runway and elevation of the airport will determine whether or not a particular type of aircraft can land there.
Private jets are often able to land at smaller airports because they have shorter runways, but larger airports with longer runways and higher elevations may be able to accommodate them as well. Many larger airports also offer facilities for private jets, such as hangars or parking spaces for fuel trucks.
With this in mind, if you're planning on flying privately across countries or continents while chartering a private jet, it's important to take note of regulations regarding customs requirements before you depart from one country into another—especially when crossing international borders!
Conclusions
Private jets are fantastic for travelling for business or pleasure. They're also a great option for individuals who need to get somewhere quickly without having to wait in long queues at the airport. Private jets allow you to land on any runway that is safe and convenient, which means they can land at a small airport near your destination that might not be available otherwise.
If you would like to hire a private jet, our team of aviation consultants is always available to discuss your travel requirements and offer aircraft options based on your preferences. Do not hesitate in contacting our team via email or by phone and we will make sure your private jet flight is seamless and effortless.